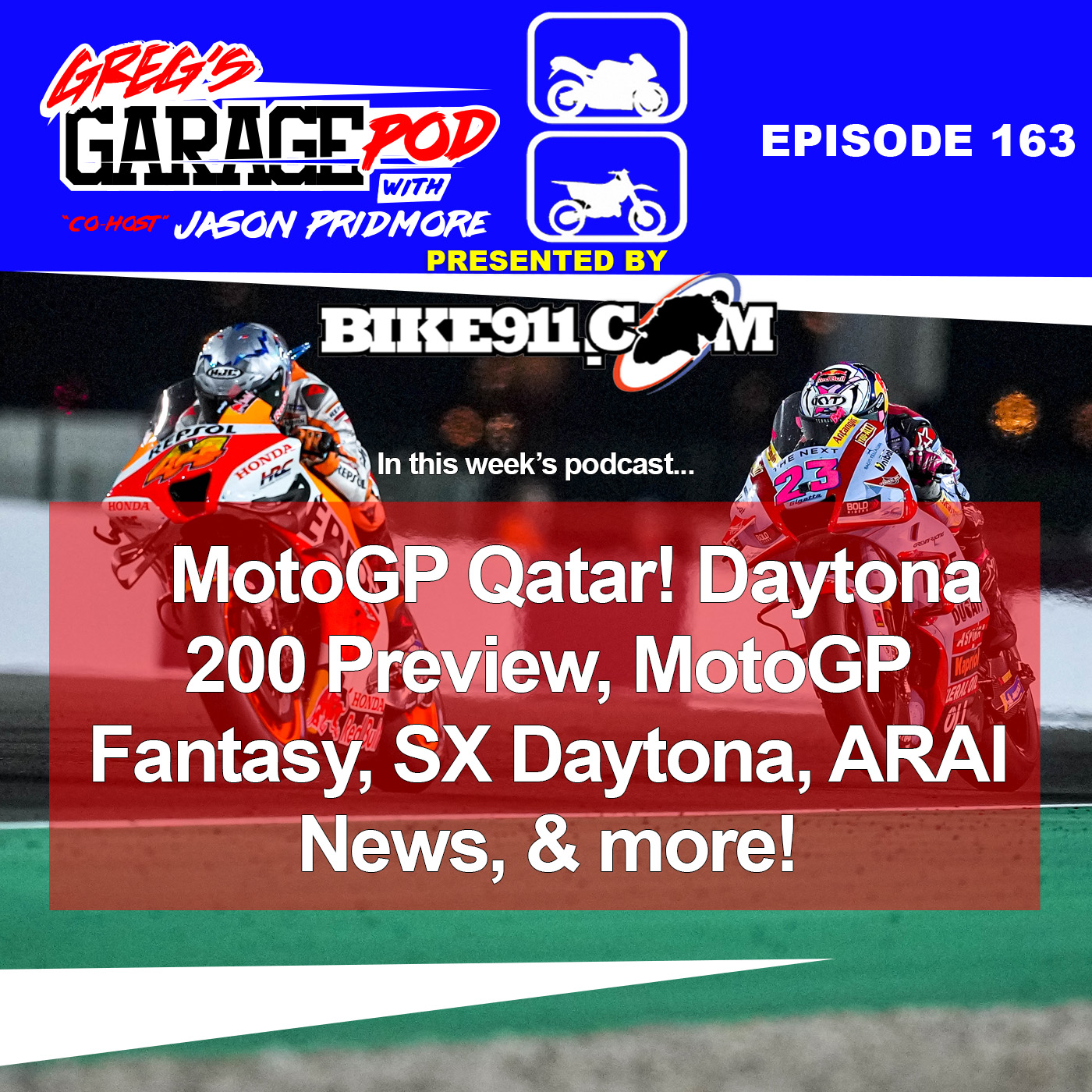 Greg's Garage Pod with Co-Host Jason Pridmore P/B Bike911.com - A motorcycle racing Pod about MotoGP, MotoAmerica, and World Superbike, Pro Motocross, American Flat Track, Supercross, and more. If you'd like to support the channel here is our Patreon link:
https://www.patreon.com/gregsgaragetv
In this episode, Co-Hosts Greg White and Jason Pridmore talk: 
ARAI News -  MotoAmerica's Pit Lane Challenge for $16,000!?! Garrett Gerloff tests with other WorldSBK Yamaha's, but how did he fare? 
MotoGP - The 2022 season kicked off in Qatar over the weekend. Find out what the boys saw in all three classes. 
MotoGP - Win and ARAI Corsair-X by playing MotoGP Fantasy with us! And it is free. When you register to play join our league. https://fantasy.motogp.com/leagues/join  Use this code in the search! 3X2LNEY5
Daytona 200 - The Daytona 200 is this week! The boys talk about who is in the race, who will be fast, and how many might be in the lead draft. Also, this kicks off the 2022 Championship for MotoAmerica's Mission King of the Baggers, and Twins Cup! 
Supercross - The boys discuss Daytona. It was something to behold.   
Supercross Fantasy - Supercross Fantasy is a disaster for GDub. JP... well, you'll have to find out. 
The podcast has two leagues! One for the broad audience and one for the Patreon supporters. ARAI will provide a prize for the winner of each fantasy league. 
Join us!! Supercross Fantasy: https://pulpmxfantasy.com/leagues/gregsgaragepodcast
RM Fantasy Link: https://www.rmfantasysx.com/
Bye, Bye 
Social Media Links:
Jason's Instagram - @pridmore43
Greg's Instagram - @gregwhitetv
Jason's Twitter - @jp43
Greg's Twitter - @gregwhite
Greg's Youtube - GregsGarageTV