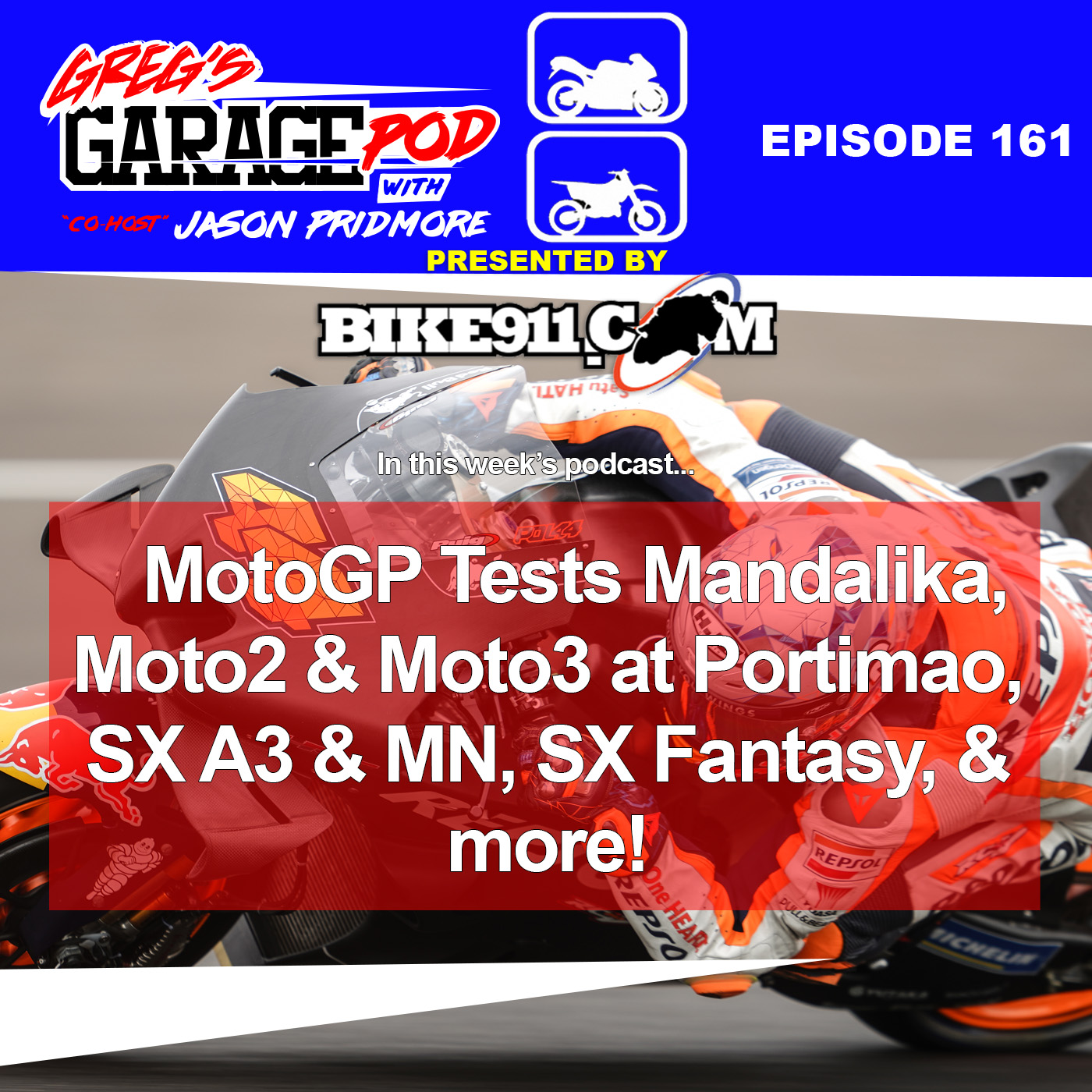 Greg's Garage Pod with Co-Host Jason Pridmore P/B Bike911.com - A motorcycle racing Pod about MotoGP, MotoAmerica, and World Superbike, Pro Motocross, American Flat Track, Supercross, and more. If you'd like to support the channel here is our Patreon link:
https://www.patreon.com/gregsgaragetv
In this episode, Co-Hosts Greg White and Jason Pridmore talk: 
ARAI News -  Rispoli is back? Jerez test last week, but where are the Americans? Mandalika getting a repave, already? Royal Enfield's BTR is back in MotoAmerica, but what is different this year? The Suzuki GSX-R750 is homologated for WorldSSP and MotoAmerica to race in Supersport!?! Is this the return of the glory days or what? 
MotoGP - Official Test for all MotoGP teams and riders in Indonesia's Mandalika Circuit. The boys break down what they saw, what is new, and who the surprise rider/team is! 
MotoGP - Moto2 & Moto3 teams had their official test at Portimao. It was three days and tons of laps, as a rookie continues to impress and break records. The boys talk about who is upfront and how the Americans performed. 
Supercross - The boys discuss Rd 6 & Round 7 from Anaheim and Minnesota.  
Supercross Fantasy - Supercross Fantasy is a disaster for GDub. JP did well, but find out if he slid or advanced. 
The podcast has two leagues! One for the broad audience and one for the Patreon supporters. ARAI will provide a prize for the winner of each fantasy league. 
Join us!! Supercross Fantasy: https://pulpmxfantasy.com/leagues/gregsgaragepodcast
RM Fantasy Link: https://www.rmfantasysx.com/
Bye, Bye 
Social Media Links:
Jason's Instagram - @pridmore43
Greg's Instagram - @gregwhitetv
Jason's Twitter - @jp43
Greg's Twitter - @gregwhite
Greg's Youtube - GregsGarageTV