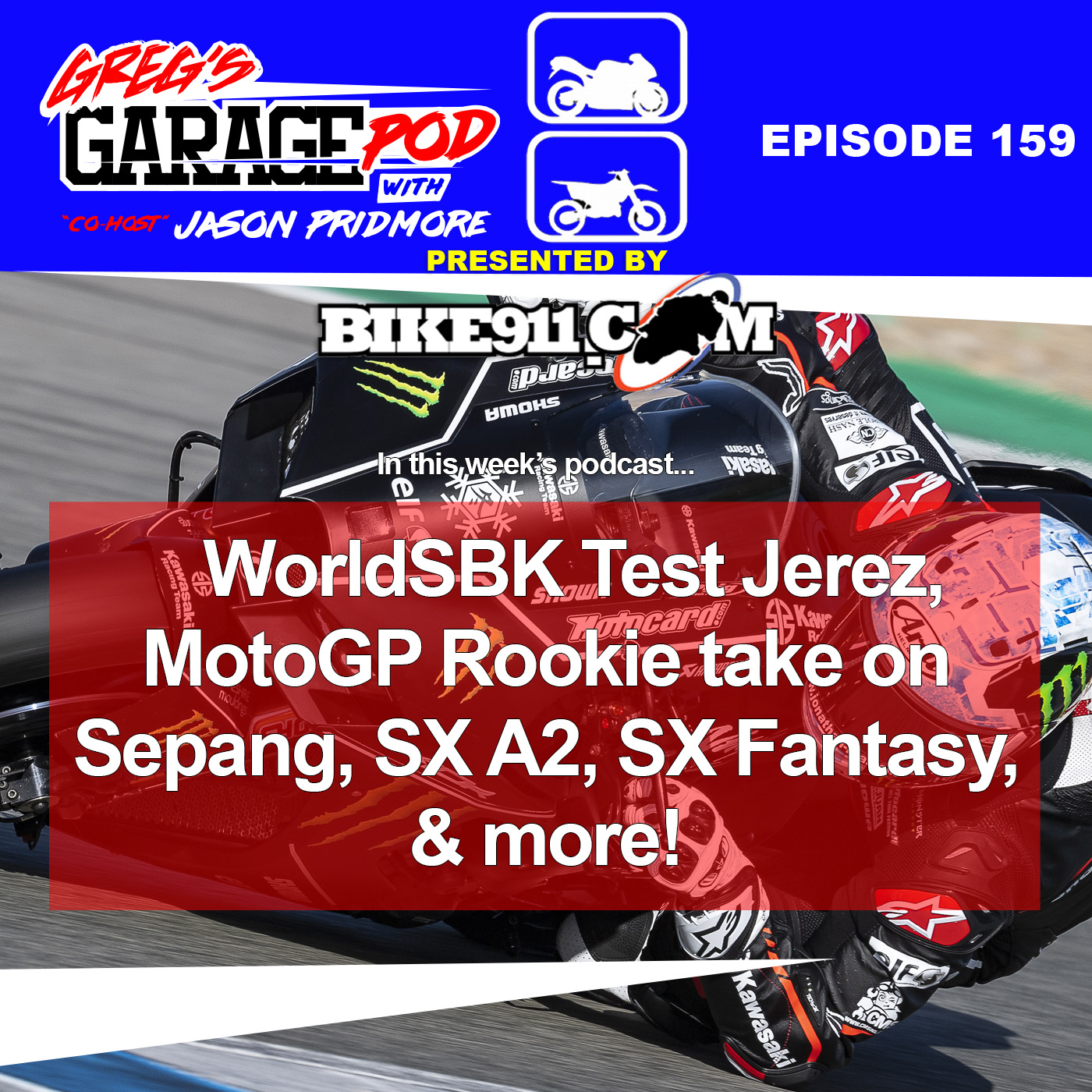 Greg's Garage Pod with Co-Host Jason Pridmore P/B Bike911.com - A motorcycle racing Pod about MotoGP, MotoAmerica, and World Superbike, Pro Motocross, American Flat Track, Supercross, and more. If you'd like to support the channel here is our Patreon link:
https://www.patreon.com/gregsgaragetv
In this episode, Co-Hosts Greg White and Jason Pridmore talk: 
ARAI News -  Some WorldSBK teams and WorldSSP teams tested Jerez last week. WorldSBK.com posted a free highlight video from the test. The boys play it and discuss it. MotoGP rookies have already taken to the Sepang International Circuit. Find out what has been going on. 2018 WorldSSP300 Champ Ana Carrasco is heading to MotoGP, once again. Carrasco will be racing in the Moto2 class. What do the boys think about that last-minute change? 
Supercross - The boys discuss Rd 4 A2 with results and points. We are starting to see who the long-term contenders will be.  
Supercross Fantasy - Supercross Fantasy after round 4 and Gdub drafts past JP. And we have a new leader in the League and it's not their MotoAmerica boss! 
The podcast has two leagues! One for the broad audience and one for the Patreon supporters. ARAI will provide a prize for the winner of each fantasy league. 
Join us!! Supercross Fantasy: https://pulpmxfantasy.com/leagues/gregsgaragepodcast
RM Fantasy Link: https://www.rmfantasysx.com/
Bye, Bye 
Social Media Links:
Jason's Instagram - @pridmore43
Greg's Instagram - @gregwhitetv
Jason's Twitter - @jp43
Greg's Twitter - @gregwhite
Greg's Youtube - GregsGarageTV