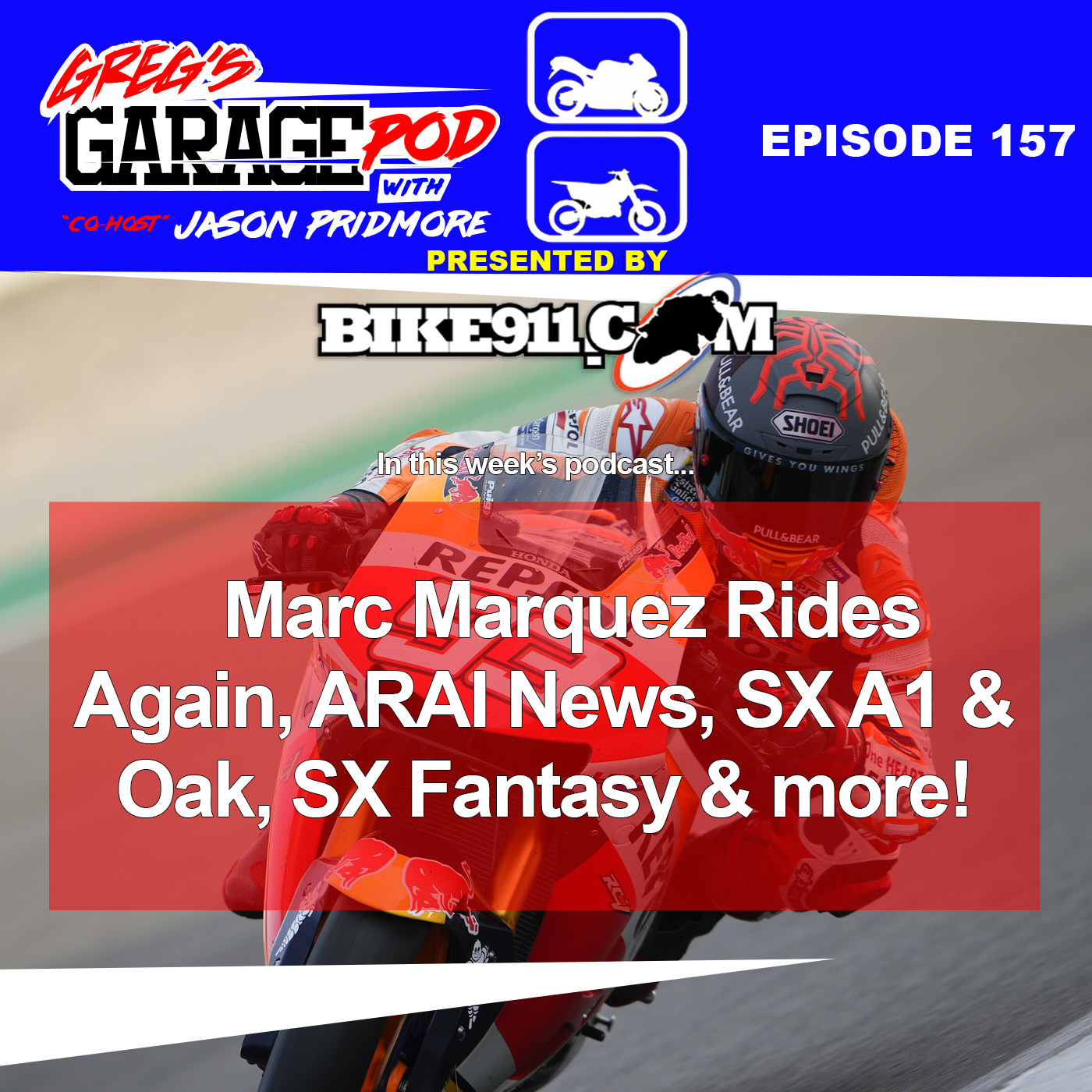 Greg's Garage Pod with Co-Host Jason Pridmore P/B Bike911.com - A motorcycle racing Pod about MotoGP, MotoAmerica, and World Superbike, Pro Motocross, American Flat Track, Supercross, and more. If you'd like to support the channel here is our Patreon link:
https://www.patreon.com/gregsgaragetv
In this episode, Co-Hosts Greg White and Jason Pridmore talk: 
ARAI News -  Marc Marquez is back on track, but how is his vision? A quick soundbite from Marc on how he is doing. Danilo Petrucci is testing for the MotoAmerica spec Ducati? Balda lands in WorldSSP, but with which team? MotoGP riders are back on the race track but on street bikes. Who was on what doing what? Herrin tests Ducati at Daytona, but that test was so much more than just some laps. 
Supercross - The boys discuss A1 and Oakland results and points. It seems that the trick is a new team with a new motorcycle or is it? 
Supercross Fantasy - It has been two weeks of Supercross Fantasy. Are JP and Gdub battling it out for the final spot?
The podcast has two leagues! One for the broad audience and one for the Patreon supporters. ARAI will provide a prize for the winner of each fantasy league. 
Join us!! Supercross Fantasy: https://pulpmxfantasy.com/leagues/gregsgaragepodcast
RM Fantasy Link: https://www.rmfantasysx.com/
Bye, Bye 
Social Media Links:
Jason's Instagram - @pridmore43
Greg's Instagram - @gregwhitetv
Jason's Twitter - @jp43
Greg's Twitter - @gregwhite
Greg's Youtube - GregsGarageTV