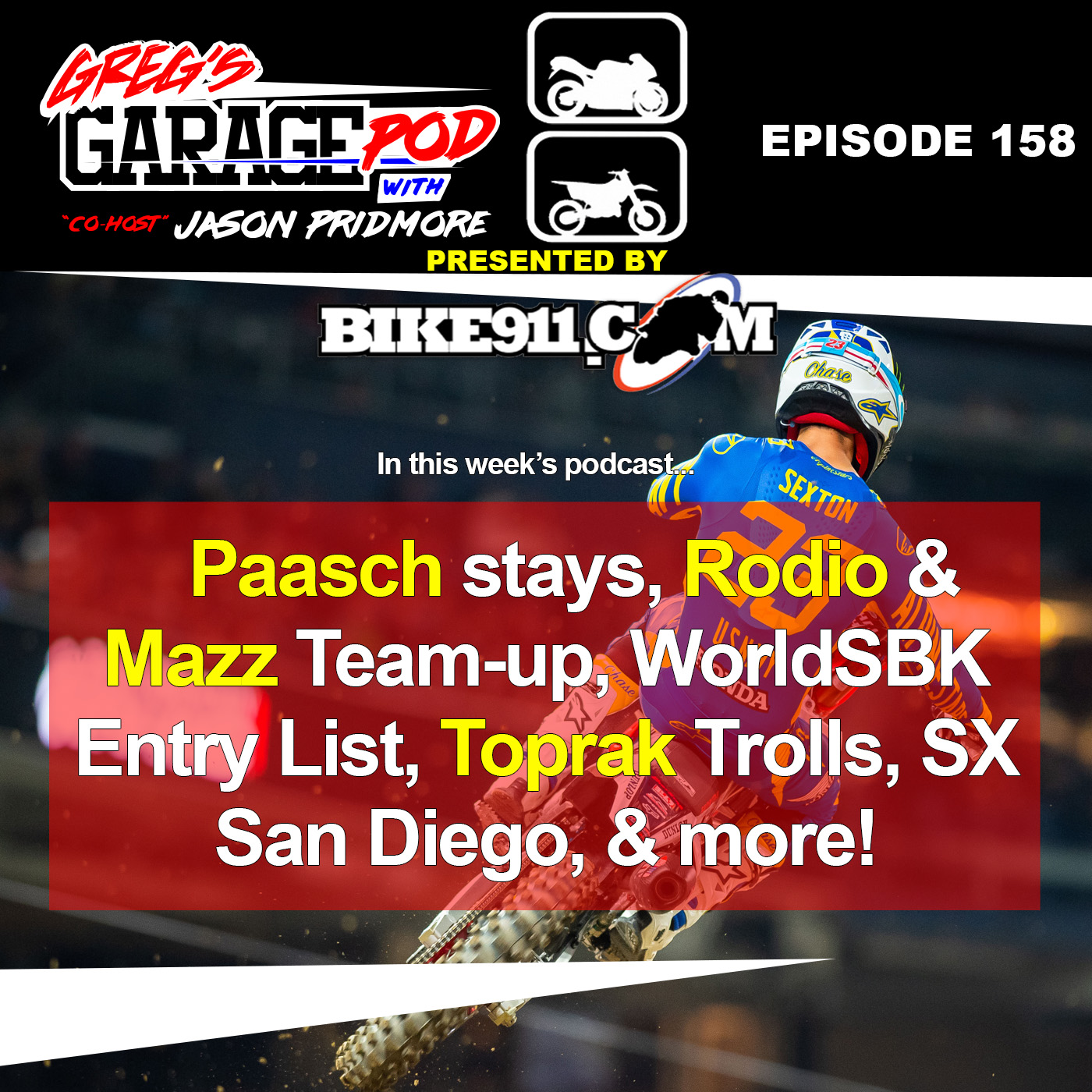 Greg's Garage Pod with Co-Host Jason Pridmore P/B Bike911.com - A motorcycle racing Pod about MotoGP, MotoAmerica, and World Superbike, Pro Motocross, American Flat Track, Supercross, and more. If you'd like to support the channel here is our Patreon link:
https://www.patreon.com/gregsgaragetv
In this episode, Co-Hosts Greg White and Jason Pridmore talk: 
ARAI News -  Brandon Paasch is back in the US on a Stock1000. Rodio and Mazz team up on Aprilia's. Doyle to move over to Twins Cup?  Kyle Wyman is done with Superbike? WorldSBK teams are testing Jerez this week, but what is at stake? Is Toprak a top troller? 
Supercross - The boys discuss Rd 3 San Diego results and points. First-time race winners across the board. 
Supercross Fantasy - Supercross Fantasy after round 3. JP and Gdub just stink. But it's even worse as their MotoAmerica boss is leading the league! 
WorldSBK - Today the 2022 provisional entry list was released. There are some noteworthy items on this list including the number of factory bikes. 
The podcast has two leagues! One for the broad audience and one for the Patreon supporters. ARAI will provide a prize for the winner of each fantasy league. 
Join us!! Supercross Fantasy: https://pulpmxfantasy.com/leagues/gregsgaragepodcast
RM Fantasy Link: https://www.rmfantasysx.com/
Bye, Bye 
Social Media Links:
Jason's Instagram - @pridmore43
Greg's Instagram - @gregwhitetv
Jason's Twitter - @jp43
Greg's Twitter - @gregwhite
Greg's Youtube - GregsGarageTV